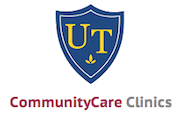 Help Us Care For Our Community
The CommunityCare Clinics provides quality healthcare with dignity to those without adequate health insurance or care. Our clinics are staffed by hundreds of physicians, nurses, pharmacists, allied health professionals and students every week. We aim to make a positive impact on our local community in Toledo, Ohio, by providing needed services as well as fostering an environment where students can learn to practice their chosen medical professions with compassion.
Each year, we spend over $20,000 on medications, clinic supplies and services to directly benefit our patients and keep our clinics open. There are no administrative costs and our clinics are 501(c)(3) certified. All staff work on a volunteer basis. 100% of your donation directly supports our patients. Your generosity enables a stronger option for care.
Thank you for your generosity, and for your support of the UT CommunityCare Clinics.